Feedly! A Great Replacement for Google Reader
I logged into my account with Google Reader today and got a message that the service is being "retired" as of July 1. I found this somewhat annoying because, as you might imagine, I have subscribed to many RSS feeds over the years, and it's always a comfort knowing where to research things when the need arises or just having someplace efficient to browse during some free moments.
What to do.  Obviously, find another RSS aggregator.
I went to my current favorite search engine, DuckDuckGo and searched for a good alternative.  And found one.
My Recommendation: Feedly.com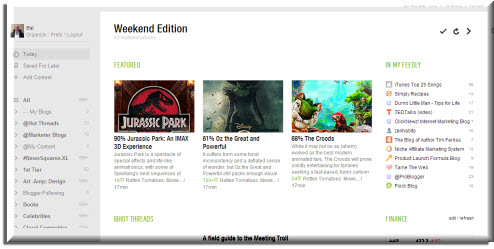 I give Feedly.com my highest recommendation. Here's why.
It synchs with Google Reader - per your OK.
There is a Droid app for both phone an tablet.
There is an iPhone app. (I don't use i-anything, so I can't tell you about how Feedly works with them. I assume very good.)
The interface is simple, beautiful and mostly intuitive. Especially once you grok it.
It is currently free, although according to TechCrunch, they will be moving to a "freemium" business model where at least some of their users pay for a deeper and richer experience.
I hadn't planned on moving from Google Reader, but now that it's retirement is imminent, it's good to have an alternative.

Comments
comments