Make Facebook Less Painful with FB Purity
I don't know about you, but I have a like/dislike relationship with Facebook. I enjoy connecting to good folk and having good conversations. But I don't much like being distracted by posts that I find annoying, distracting or even painful.
I used to be a news and political junkie. If there was a news story, I had an opinion about it. If someone did something I didn't like, not only did I have an opinion about it, but I vented my spleen about it.  In short, I was like an unpaid radio talk-show host commenting on everything that came my way as though what I said made a bit of difference to anyone.  But on Facebook, that's OK because I was one person in a crowd of millions who were all doing the same thing.  Lots and lots of people with an even greater number of opinions. And every one of us was absolutely sure that he or she is correct and anyone opposing them must be the devil or stupider than dirt.
After too many years of this, I had enough. I saw it for the waste of time it always was. And I stopped - cold turkey, the day after my side won in the elections in November 2014. My side won and I saw the futility of it all. And thus, watching my dust settle on a counter top became more interesting and useful.
However...
No one on Facebook got the message that I no longer wanted their views about news or politics. And anyone who did get the memo wasn't about to stop just because of me. I'm not king of the world - and you can think your lucky stars for that.
I could, of course, unfriend everyone who posted this drivel, but many of my friends posted such stuff only once in a while and had other things that were worth exploring.
So I looked to Facebook. Surely they had a way for me to filter out the crap (the technical term for news and politics). But sadly, Facebook does not seem to provide a way to block posts based on content. So I was stuck seeing words and phrases like "George W. Bush," "Obama," "Clinton," "global warming," or all the myriad things that all the really hip and smart people have time and energy to dwell on. I didn't - and don't have the time or the patience anymore.
Solution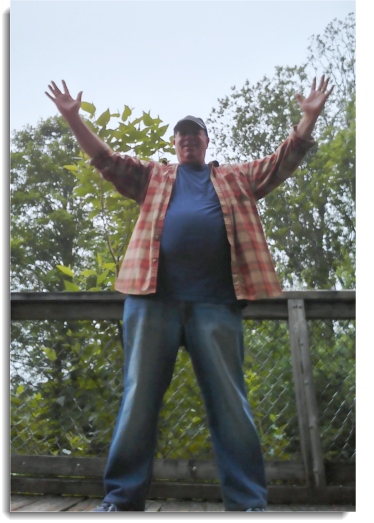 And then I found Nirvhana. A little browser app for most browsers (except for poor Internet Explorer (*sniff*). Do you use Chrome? Firefox? Opera? Maxthon? Safari? Yes? Then you're in luck. This FREE little app is available for you. If you are still using IE, you'll need to find a different solution.
So what is this Nirvhana?
The app is called FB Purity. You can use your favorite search engine to see if the app is available for your preferred browser. I've provided links to where (as of this writing) you can get the app for Chrome, Firefox and Opera.
- https://chrome.google.com/webstore/detail/fb-purity-clean-up-facebo/ncdlagniojmheiklojdcpdaeepochckl?hl=en
- https://addons.mozilla.org/en-US/firefox/addon/fb-purity-cleans-up-facebook/
- https://addons.opera.com/en/extensions/details/fb-purity/?display=en
I found the installations on both Chrome and Firefox to be a snap. I'm guessing it's similar with Opera and other browsers.
Once you log in to Facebook and go to your news feed, you give FB Purity permission to monitor your news feed.
FB Purity appears just below the What's on your mind box?.

Click the link in order to see everything under FB Purity's hood. There is a lot there. Below is a partial screenshot.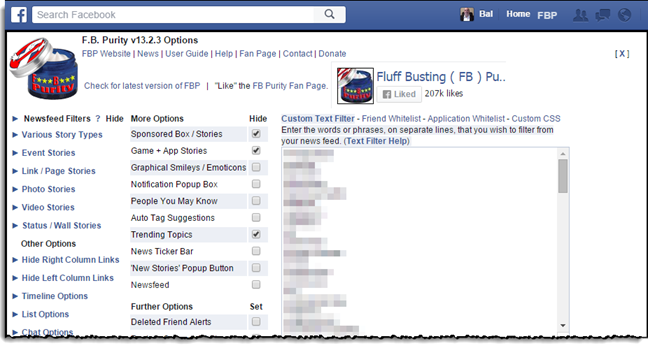 I'm going to just go over the two that I found most immediately useful: News feed sort order and keyword filtering.
#1 - News feed sort order
Facebook decision makers seemed to think everyone wanted to see what they designated as top stories rather than the most recent posts. FB Purity brings choice to the kingdom. Click anywhere outside the message entry box and press R (for recent)and the posts will immediately reorder to show the most recent. A small token fo sweet, sweet sanity.
#2 - Keyword Filtering
Even getting the most recent comments can get a bit annoying if everyone happens to be posting about things you'd rather not be subjected to.
FB Purity again brings peace to the realm. Simply tell it that any post containing words you don't ever want to see should be kept from appearing in your news feed. And guess what? It works! To make the magic happen, click either of the FB Purity buttons and the FB Purity dialog appears. Enter the words you want filtered into the Custom Text Filter box and then click Save and Close.
Since I started using it, I haven't seen a single post where the text includes the names of politicians, activist rants and prods, etc.
When I don't see it, I don't react to it. I don't respond to it. I'm free of it. And I get back hours of time I wasted when I wasn't free.
It's free - and I donated. The author [mts: name?]makes it clear that FB Purity is free, but he does ask for a donation.
If you are looking for peace in the Facebook space, I can't say enough about this little app. Check it out and see for yourself.

P.S. - FB Purity should be in the arsenal of anyone who wants to control what they see on their Facebook news feed. And it is part of a larger discussion about focusing on what's important to you and not allowing yourself to get distracted. I found a neat little Kindle book called How to Focus on Amazon. It's 25 pages long and a quick read. You can even skim it and get value from it. You can read about it here: http://amzn.to/1duahz0 (associate link)
---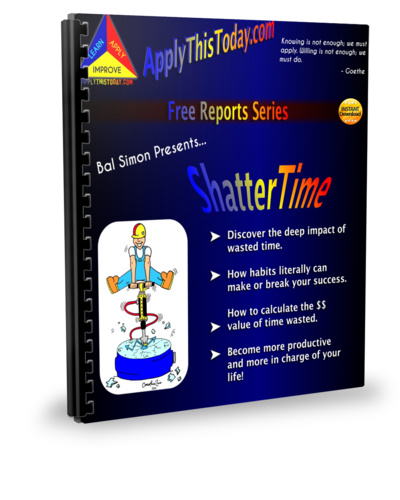 You Are Invited: Get your complimentary subscription to my ezine, Better Ways - Today and get notified when I create a new post about using your time better, finding solutions to irritating problems, and other things that you can apply - today - or at least quickly.
Each of our journeys start with a step and continue with more steps. Sometimes a step accelerates our progress, and sometimes, these steps come from ideas you receive along the way. Give Better Ways - Today a try and who knows where your muse can take you? I have a free gift for new and current subscribers called, ShatterTime.  Simply provide a working email address.  I'd like to be able to call you by your name, but entering your name is optional.
Comments
comments