Announcing the Music Hall
Instrumental music is a passion of mine. This includes classical and more recently jazz and new age music. This doesn't exclude songs or choral pieces. Beethoven's 9th Symphony stands as the Mt. Everest of music in my and many other people's views, and it would not be the masterwork it is without the chorus and soloist singers. But my focus is on instrumental.
It is my intention to, at some point, share some of the music that I create, but I'm not really ready for that yet. It's not stage fright... it's that the pieces I'm working on are not to a point that I like.  One of my chief goals is to be able to have the music be printable so as to be played by musicians rather than by software. One of my pieces is slowly getting to that point. So we'll see.
In the meantime...
In the meantime, it will by my honor and pleasure to share with you some of the music I find online. There is so much talent and genius out there. But it's not always what many people search for by default. For instance, I found Beethoven's Grosse Fugue (usually scored for string quartet) delightfully and masterfully played as a piano duet by sisters Amy and Sara Hamann.
If you are familiar with this piece, they provide an opportunity to hear it anew. If you're not familiar, I hope you find it enjoyable just the same.
I love publishing my finds. Up to now, I've been posting them on Facebook (example), but that's not a good place to post things if you want to provide your audience with an easy-to-access resource.  I acknowledge, too, that a blog isn't nearly as good for quick access as say a playlist on one of the music services.
However, it has the advantage of letting me set up contexts for the music I point to. The reasons why something gets selected, perhaps why something else doesn't. It allows me to connect dots in a way that simple playlists cannot - and do not. And, there's nothing to stop me from creating, say a YouTube of Spotify playlist and sharing it out. Maybe I'll do that one day.
Introducing the ApplyThisToday.com Music Hall

So to kick things off, and to see where things evolve, I am introducing The Music Hall which you can access from any blog entry along the right column in the What's Your Interest? section.
For now, I will be discussing my thoughts about music and composition as well as pointing you to some wonderful music I find along the way.
Enjoy. I know I will.


One more thing: you Are invited: Get your complimentary subscription to my ezine, Better Ways - Today and get notified when I create a new post about music and other things that you can apply - today - or at least quickly.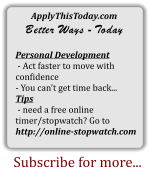 Each of our journeys start with a step and continue with more steps. Sometimes a step accelerates our progress, and sometimes, these steps come from ideas you receive along the way. Give Better Ways - Today a try and who knows where your muse can take you? Simply provide a working email address.  I'd like to be able to call you by your name, but entering your name is optional.
Comments
comments