A PSA Reminder: See Your Doctor
It was 1982. and I was seeing a friend on her death bed. She was 29, two years older than me. A group of 20 of us -  family and friends - circled her bed. and one of her family led a prayer and told Sue she had to be strong. I'd never seen a physically weaker person at that point in my life. I remembered the sadness in her eyes, and knew that this was the last time I'd be seeing her. 48 hours later, Sue was gone.
She died of ovarian cancer – at age 29. I wondered aloud about that, and one of our mutual friends told me that she had felt pains for several months at least. but the thought of seeing her doctor terrified her. So she held off doing so, and by the time the pain was simply too intense for her to tolerate. the cancer had metastasized and there was nothing the doctors could do.
I have known that kind of fear, but my response has always been to actually see my doctor, even if I get looked at as a hypochondriac.
Health and Life Design/Productivity
It may seem strange to have a reminder to see your doctor in a blog about life design and productivity. But if you think about it, neither of these can be fulfilled if your underlying health takes an avoidable nose dive and you find yourself on a hospital bed or worse.
Sure, there are always unexpected events; things you can't anticipate.  A 17 year old dying of a heart attack because of heat stroke – perhaps that could not have been detected by a regular physical.
But these days, there are so many things that modern doctors can detect, that to not see yours is akin to living back in the 1930s when life expectancy was in the 40s instead of the 70s and 80s. And let me also suggest to you that early detection is currently much better than it was back in the early 1980s, meaning you have a much better chance at early detection.
If there is something wrong, having a yearly physical gives you a better chance (not a guarantee) at meeting the challenge early. Obviously, the more frequently you see your doctor, the better the chance of doing so. And I suppose you could go every day if you were truly paranoid. But life design is about choices, and about balancing what you want to do with what you need to do – especially if what you need to do supports getting what you want overall.
Interestingly. there are technologies on the way which will be able to monitor us 24/7/365 so that if something comes up. doctors get true early warning signs. But we're not there yet – at least not for most of us. So getting regularly checked out is critically important.
Is this just for men?
There are apparently lots of studies (I've had trouble finding them) that say that men are more reluctant to see their doctors for a check-up than women.  I don't know. Perhaps it's true. But does it really matter? You are not a statistic. And even if statistically it is true that more men than women avoid seeing their doctors, remember my friend, Sue.
And just to nail this on the head: A few weeks ago I was sitting at my computer, when I began to notice a bit of chest pain. While it was on my right side, and while I didn't have any difficulty breathing, over the next several minutes, it intensified and I found myself sweating. Not profusely, but enough to notice. Definitely NOT normal.
I woke up my wife and said we should get it checked out. As she drove us to a local emergency room, the pain subsided. By the time we got there, I was feeling fine. But I said, "The last thing I want is for my tombstone to say this…"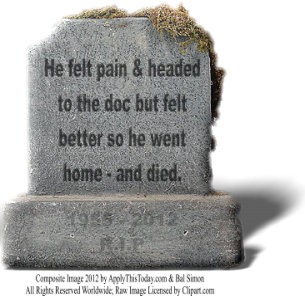 Ninety minutes home and some money later, I was home, and they had found nothing wrong. I went to bed smiling instead of worried.
You say you're feeling fine? Or if you're worried, you think it's no big deal? Great. Let your doctor confirm it for you.

Comments
comments