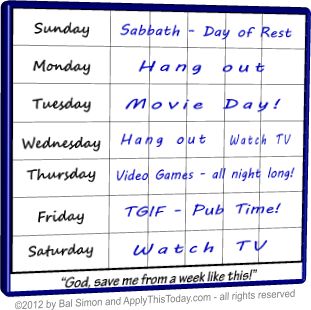 So for the past 3 weeks, I've been blogging 5 times a week. But I've been doing it in a less-than-optimal way. I "let" time get away from me and ended up creating 5 posts on the last 2 days, just to meet the goal.
Which is better than NOT meeting it. But still far from ideal.
The right way would be to brainstorm about what to blog, do a bit of research, if necessary, and then spread out the posts throughout the week instead of bunching them up as I've done.
This week, I intend to do that.
The reason for this post is that I know there are people who are thinking about blogging but haven't yet pulled the trigger to do so. And by talking about my early-on mistakes, maybe these little windows on how I'm doing things will help someone else avoid the same difficulties.
The take-away is this: when possible, spread your creative efforts out. When you're in the process, be focused. But allow yourself room to breathe because even though focus is critically important, so to is breathing.

Comments
comments