This is going to be a short entry. But perhaps an important one.
There is one thing that destroys, not just today's success, but any real success you might have had a chance of attaining.
And there is its opposite which is almost guaranteed to bring you ever closer to your successful outcome.
The destroyer: failing to meet commitments that you make, even if only to yourself.
Why? Because your ability to rely on yourself to do what you commit to provides intense comfort as you take on every greater challenges.
The guarantor? Simple: Keeping your promises – even those you make just to yourself.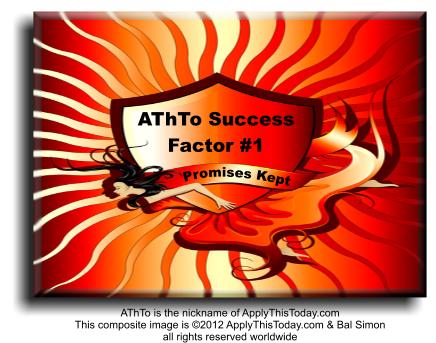 Meeting your commitments – over and over again – gives your subconscious mind increasingly intense messages that you can be relied on to do what you commit to doing.
There is tremendous power in being able to rely on yourself. To know that you will confront your challenges head on enables you to take on greater challenges.
Imagine how relaxed you could be if you put the hesitations, the worries, etc. behind you; knowing that you could rely on yourself and to know that other people can do so too. And when others are able to truly rely on you, they may begin to present you with new opportunities.
And THAT is the real benefit.

Comments
comments