Firefox / YouTube Slow Video Blues – Solved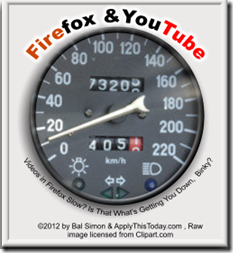 I recently upgraded Adobe Flash to version 13.300.262. One unintended effect of this was that some sites loaded much more slowly, if at all, and I literally had to move the mouse cursor off the Firefox window for control to be returned to that window. Very weird.
I'm not a techie, but I can some things, like search for other people having similar experiences and hoping to find a solution among their discussions.  I've also looked on both the Mozilla and Adobe sites for solutions, to no avail. (It could be I just don't know what to look for or where to look. Putting the best spin on it, that basically means that neither organization takes someone like me into account.)
I did find enough clues in everything I read to come up with a partial solution: uninstall and reinstall Flash.  In doing this, things "magically" improved – a little bit.
Another thing that seems to affect this was a backup solution that I have chosen to use. It seems that if that backup is loaded, Firefox doesn't like it. I'm not sure who is not playing nice with who. But for me the solution to this is relatively simple. I'll explain this in the next post.
Resource: for instruction on uninstalling and reinstalling Adobe Flash:
http://www.ehow.com/how_7329396_uninstall-reinstall-flash.html
Next up – I'll go into what has become my new backup process.

Comments
comments