Who You Gonna Call? Get It Done, Part 3 of 3
Sometimes, reality hits you right between the eyes. This can range from devastating (e.g., a fire that forces fast, mass evacuations) to mild but unavoidable, like having to go to a second step-nephew's 3rd grade mid-semester graduation.
The key effect is that you can't be on top of your game.  You don't have time or the band width, and you're going to miss your deadline.
It's unavoidable. Life happens.
Yet some people don't seem to lose control of things when it hits the fan. I remember going to Dan Kennedy's Super Conference back in 2008, where he appeared just after having a horse race accident which took out his back. Yet the conference went on without a hitch.
That doesn't happen by luck or because you happen to be a good person.
It happens because you've set things up so that they can move forward, even if you're not available.
The solution is to have effective plans in place and to have delegation authority pre-assigned as much as possible.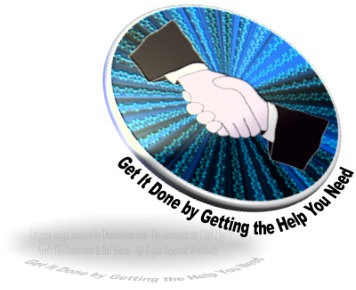 For getting things done that you don't have time to do yourself, outsourcing can be a very effective solution – if you've got people who are good at what they do and who can get done the things you hire them to do.
One of the best sources for finding talented people on the cheap is Fiverr.com. While mainly for business actions, there are people who will do various personal tasks for you, too. (For example, you can get help with your wedding.
One task that I need help with is computer and business security. I recently picked up Nicole Dean's. Avoiding Disaster. It provides very detailed guidelines to help you set things up in case a disaster does hit. I plan on seeing if there are things I can farm out to the Fiverr.com universe so that my time isn't being sapped by activities that need to be done, but that I don't have to personally do.

Comments
comments