Windows Users: Scheduling Tasks With Windows
For a long time, I used a third party app to schedule tasks, especially repetitive tasks. Then one day, the app I used stopped working and I needed tech support. The company never responded (stupid - they lost a customer).
So, as I started looking for a third party replacement, I remembered that supposedly there was a way for Windows to be set up to do repetitive tasks.  It turns out my memory was spot on.
And it's so simple that you can apply this tip - today!

The Windows Task Scheduler that is one of the System Admin Tools under the Windows Control Panel.
Setting up a task is simple - just use the Basic Task Wizard.  I created some detailed instructions should you need them.
One nuance to tell you about. If you want the Action of the task to include going to a website destination, you need to enter two pieces of information.
1 - The browser to be used. Click Navigation, and locate your browser's .EXE file.
2 - In the Additional Arguments field enter the URL.
Otherwise, the program is very straightforward.
Play with it a few times, and you too can be a Task Scheduling pro.

P.S. - Did you find this information of use? Will you put the information you got here to use - today?
Yes? Then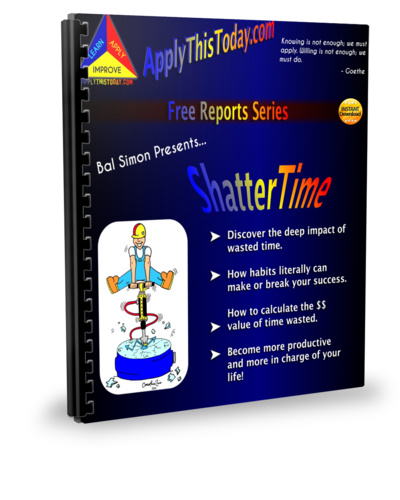 You Are Invited: Get your complimentary subscription to my ezine, Better Ways - Today and get notified when I create a new post about lots of different things that you can apply - today - or at least quickly.
Our journeys begin with initial steps and continue with more steps. Sometimes you take a step that accelerates your progress, and sometimes, these steps come from ideas you receive along the way. Give Better Ways - Today a try and see if you don't accelerate just a little bit more (perhaps a lot more).
I also have a free gift for new and current subscribers called, ShatterTime. that talks about how we waste our time, the monetary cost of it and some simple ideas about what to do about it. Simply provide a working email address.
Comments
comments