Posted Under: Enjoying Life, The Music Hall:
July 19, 2015
Tags:
Beethoven, Beethoven Symphony No. 5, Benjamin Zander, Chico Marx, composing music, Kodo, music, music appreciation, O-Daiko
Comments: 0
A Brief Intro to the Music Hall – Alchemy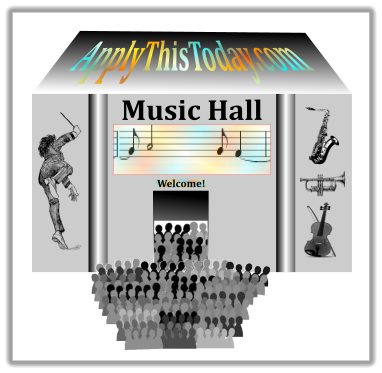 Welcome again to the ApplyThisToday.com Music Hall. My name is Bal Simon, and I will be your host and MC during your visit.
Before we begin, let me get a couple of things out of the way.
First - what you won't see...
You're not going to see a bunch of classroom style lectures and demonstrations.
While I sometimes love such lectures and demonstrations as I work at becoming a better composer, I don't see myself a traditional style teacher. I don't have the training, the knowledge or the temperament to be that kind of teacher. There are hundreds, if not thousands of wonderful teachers all over the web. There are probably many local to you too. I suggest that you look to them for more formal instruction. I have a wonderful teacher, Heidi Wischler, who helps me understand what the heck I'm doing. I think the world of teachers with formal training.
But we're going to be quite a bit more informal here, and much more playful with ideas and thoughts about music.  I imagine this won't be everyone's cup of tea. That's OK. There are lots of tea houses.
Second - this post is something of an introduction. It is a bit longer than most of the entries going forward. Most of my entries will be shorter. Why? Partly because creating long entries that are worthwhile is a lot of work, but mainly, I believe you have things to do. So I'll generally keep things short and sweet.
Now - on to the fun stuff...
I see myself as an enthusiast - and hopefully an inspirer. The aim - not always achieved - is an alchemy in our souls.
In a way, this is all about you. Efforts to inspire you to make your own music. If even one person finds himself or herself inspired to to begin composing music - music that takes thoughtful creativity, music that makes feet want to tap and hands want to wave, conducting an imaginary Orchestra of the Air, then you will have blessed me as being among the most fortunate of music lovers. For you will have tapped a primal element within you, and through that inspiration, new music will emerge that might never have come forth any other way. And who knows? You might be the next great composer to shake the world! If I can be a humble catalyst for that... wow!
But even if you never try your hand at composing music - after all, not everyone is going to share this passion - if by what you read and experience here, you can appreciate music just a little bit more, how cool would that be?
So here's what we're shooting for - what The Music Hall is going to present - and what you will experience.
Music That Is Loved
I suppose this is obvious. After all, what does being passionate about music mean if it doesn't mean you love it? But there are different ways and reasons for loving a piece of music. And I think it is worth noting a few of them.
First - the obvious. Music that one returns to over and over again because you enjoy listening to it so much. Sometimes these are societal and cultural favorites, too. For example the 1st movement of Beethoven's 5th Symphony is loved by so many people that even those who have zero exposure to classical music have probably heard the Symphony's opening.
I have probably heard this piece several hundred times, and I know that, for me, the very next listening can be even more delightful and inspiring than all the previous listenings. You just never know, and that's part of the joy of this kind of music.
There is also the kind of music one loves for the performance of it. It may the skillfulness of the performers. It may be the aliveness that they show while performing. Let me give you an example of the latter.
Here is the same opening of Beethoven's 5th. The same notes; the same music. But the contrast between performances can astound you -
if you let it
.  Of course, you can not make the effort, shrug your shoulders and say, "Meh - so what?" As I said, there are lots of tea houses on the web.
Understand, I am not saying that one performance is better than the other. But clearly, one orchestra is more openly alive and expressive than the other. You can see it in the faces of the musicians; you can see it in the way the Zander, the conductor, performs. And even though it's not in a wonderful auditorium, the performance is scintillating. Watch the bass player at about 4 minutes and again at about 5:48 into the video. You can see that the Muse of Music has him and is not letting go! And at the end, you can see just how much they all truly enjoyed putting on a show and entertaining their audience (which happily now includes us).
A third kind of love of music is music that just puts a smile on your face. Chico Marx of Marx Brothers fame was a master of this. Watch him here from A Night in Casablanca.
Last (for now) is the kind of performance of just amazing technical or performance mastery.
Watch and listen to this performance by Kodo, playing three O-Daiko (spectacular, very large Japanese drums).  Even though I am not very familiar with Japanese music, I couldn't help myself. I just love this performance.
Thoughts on Music
There will be some explorations of the technical side of music, but that is not going to be the main focus of  The Music Hall. There are thousands of professionally trained musicians who can explore the technical side of things far better than me.
Rather, we're going to explore music as a breathing, joyful, totally alive process
While I am not formally trained, I am a composer and perhaps have some things for us to think about and enjoy. (At some point, I intend to share my own music creations with you, but they're not ready yet.)
We'll look for the life, the poetry and the dance of music. The creative spark and the joie de vivre that is the reason for performing music. It is a kind of "soul-spark" that music can reach deep inside us, and we will explore it together.
It is my hope the ApplyThisToday.com Music Hall becomes something that brings you joy; that you look forward to. I have no idea what I will find next, but I can promise you this. When I share it, it will be from my soul-spark to yours.

You Are Invited: Get your complimentary subscription to my ezine, Better Ways - Today and get notified when there is something new in The Music Hall - or when there are other things that you can apply - today - or at least quickly.
Our journeys begin with a step and continue with more steps. Sometimes a step accelerates our progress, and sometimes, they come from ideas we receive along the way. Give Better Ways - Today a try and who knows where your muse can take you? Simply provide a working email address.  I'd like to be able to call you by your name, but entering your name is optional.
Comments
comments