Winning the battle with Type 2 Diabetes, or "I'm buying new jeans!"
I recently commented on Facebook that I had not eaten starches or sweets (fruits, yogurts, desserts, etc.) for almost a year. As has happened several times over the last year, a friend suggested that I not be too rigid about this.
But context matters, and it's appropriate for me to set the context. Here's my story...
History
About 2 years ago I was diagnosed with type 2 diabetes. Not to the point that I needed insulin shots, but warning shots had been fired across life's bow.
The complications that can arise from uncontrolled diabetes are well documented. Among the most common: eye problems, possible amputation of feet, chronic nerve pain (which probably scared me the most).
On April 9, 2013, I took a blood sugar reading and the meter said 196.

My doctor had said that if it hit 200, I needed to call him. So 196 wasn't 200, but it was so high that I had what I call a 196 moment and what Tim Ferris calls a harajuku moment - the moment when you become aware that something you want is something you must have in order to survive - when you become serious.
When I saw that number, I went started down a starkly different path. I swore off starches, sweets like yogurt, fruits and desserts.
Implications & Response
When you think about all the foods in the above categories that you are not eating, it becomes pretty obvious you are freeing up a large number of calories.
I elected to distribute those calories more or less equally over the foods that I can eat (which is a lot).
I increased my intake of meats, veges (especially spinach, broccoli and mushrooms), and fats. I shifted from cow milk to soy milk. Etc.
Results
Results are what matter in something like this. And the results for me have been very good indeed.
I've lost more than 20p since I made the change. Also, my blood sugar is generally in the low 100s.  My best reading so far was back in January. But that number is still an outlier.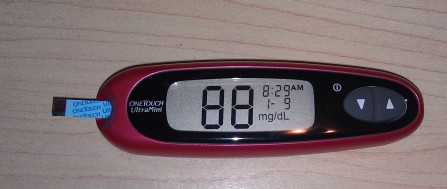 My cholesterol also dropped from just over normal to well within normal. And my eyesight improved such that I now wear a slightly weaker set of eyeglasses than I did when I had my 196 moment.
At Weight Watchers a few weeks ago, I told the meeting that when I saw the middle number on the scale tick down by 1, I would buy some new blue jeans.
Today I saw the new middle number. Therefore...
I'm buying new jeans! (Maybe there will be a photograph or two.) 
The Lesson In This
The choices we make have direct impact on the results we get. And while it would be nice for us to make choices based on what is rational and in our best interests, Nature has a "backup plan" in case we screw up. That backup plan is the survival instinct that ramps into full consciousness and becomes a "wake-up call" - where the nice do sometime have becomes the must do now.
My aim going forward is to not rely on Nature's backup plan - but rather to do what moves me toward my dreams and goals.
How about you?

Resources
Resource #1

Your Doctor: If you are overweight and have been for awhile, then regular trips to your doctor are a must. To do otherwise is like saying you want access to 1930s medicine. The name of the game is early detection, and if you don't go to the doc, he or she can't detect anything.

Resource #2

A good weight-loss program. I'm partial to Weight Watchers. I know others who like other programs. Most people I've seen, who have been obese for some time tend not to do well going solo, though the "magic" is in your actual food and exercise choices - not in any program. The old adage holds true: "Someone can show you the door; only you can walk through it."

Resource #3

Related Books & Stuff at Amazon

Books on Type 2 Diabetes

Books on Weight Loss

Weight Scales
All links on this and every other page may be affiliate or commercial links
Comments
comments